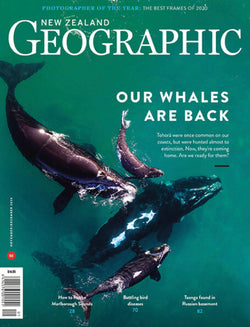 New Zealand Geographic celebrates New Zealand and all its diversity—it's people, places and wildlife. This multi-award-winning magazine is loved by readers of all ages and is renowned for its high-quality reproduction, lavish photography and in-depth editorial coverage of wide-ranging subjects—every issue holds a surprise. For two decades it has been the definitive journal of record for New Zealand, bringing its readers stories from the deepest oceans to the stars above their heads, and all the locations and cultures in between.

NZ Geographic is a Kowhai Media publication

If you would like to purchase a subscription but do not live in New Zealand, please visit www.nzgeo.com/store to do so.